Benefit Dinner December 22nd
Home » Events »
A benefit dinner will be held on December 22, 2013 at The U.A.W. Local 1250, 17250 Hummel Road, Brook Park, OH 44142. Rigatoni Dinner at 4:00pm courtesy of Santos Restaurant. Entertainment provided by The One Hit Wonders.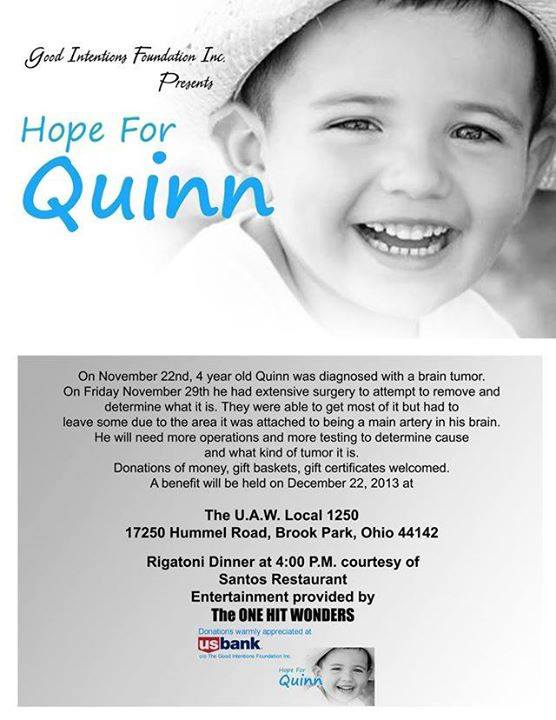 ---
For tickets contact is Danielle Barker her number is 440-478-9546. The tickets are $25 a piece for adults and $15 for kids.
On November 22nd, 4 year old Quinn was diagnosed with a brain tumor.  On Friday November 29th he had extensive surgery to attempt to remove and determine what it is.  They were able to get most of it but had to leave some due to the area it was attached to being a main artery in his brain.  He will need more operations and more testing to dtermine cause and what kind of tumor it is.  Donations of money, giftbaskets, gift certificates welcomed.
A benefit dinner will be held on December 22, 2013 at
The U.A.W. Local 1250
17250 Hummel Road, Brook Park, OH 44142
Rigatoni Dinner at 4:00pm courtesy of Santos Restaurant
Entertainment provided by The One Hit Wonders
---